IB Diploma Programme
IB Diploma Programme (DP)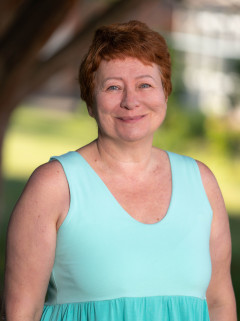 Branka
Sreckovic-Minic
DP Coordinator
IB Diploma Programme:
The IBO describes the DP as "a comprehensive and challenging pre-university course that demands the best from both motivated students and teachers.

…Typically, diploma holders are ready to debate real-world issues from an international perspective and to provide leadership and support in the local and global community. They demonstrate a capacity for in-depth study while maintaining a broad perspective of the different subject areas.
They are able to ask challenging questions but also know how to research a topic and express their opinion. They have a strong sense of their own culture and identity, as well as the ability to communicate in two or more languages with people who have a different perspective of the world."
IBO Mission Statement:

"The International Baccalaureate Organization aims to develop inquiring, knowledgeable and caring young people who help to create a better and more peaceful world through intercultural understanding and respect. To this end the IBO works with schools, governments and international organizations to develop challenging programmes of international education and rigorous assessment. These programmes encourage students across the world to become active, compassionate and lifelong learners who understand that other people, with their differences, can also be right."
The IB DP at The International School of Belgrade:

Because ISB is an international school serving a varied, multicultural community of students and teachers, the school offers the International Baccalaureate Diploma Programme for all students in Grades 11 and 12. ISB has been an authorized Diploma Program school since April, 2005.

To become successful candidates for the full IB Diploma, recognized and valued by competitive universities worldwide, students must take six courses, 3 at the Higher Level and 3 at the Standard Level. DP courses are offered in all six subject areas and take two years to complete. In May of their senior year, ISB students sit for external examinations for the IB.
In order to broaden their perspective beyond academic courses, Diploma students must also fulfill the core requirements of the Diploma Programme:
An independent, in-depth research project resulting in an extended essay of 4000 words. ISB students begins the work at the end of semester 1 of grade 11, and turn in the final Extended Essay by the end of October of their grade 12 year.
A Theory of Knowledge course and paper, which addresses the questions: What do we know and how do we know?
Commitment to the ISB and Belgrade communities through Creativity, Activities and Service (CAS) projects. At ISB, CAS is perhaps our proudest achievement, with Diploma students sponsoring individual and group projects in the local community throughout the year.
The Diploma Programme is the culmination of an ISB education. It builds directly on the holistic approach of the Primary and Middle Years Programmes. All students in grades 11 and 12 are required to take IB classes in six academic subject areas. Please see the
IB Diploma Programme
link or the IBO's website for more details on this program.
In support of the school Mission statement's focus on "excellence," the IB Diploma Programme is a rigorous university preparation curriculum. Through this two-year course of study, students practice essential Approaches to Learning skills, such as Thinking, Self-management, Communication, Social and Research skills, they build on from MYP Approaches to Learning. Our students are academically well-prepared for entrance to any university in the world.

In addition, ISB students strive to develop attributes of the learner profile, and be inquirers, risk-takers, principled, balanced and reflective members of the ISB community. We also strongly believe in preparing our students to be caring citizens of the world. The DP program offers many opportunities for students to serve our local, regional and global communities. We expect our graduates to use their ISB education to serve the needs of whatever community they join as alumni.
For more information about the Diploma programme, and courses offered by the school, please contact the DP coordinator, Ms. Branka Sreckovic Minic at
bsreckovic@isb.rs
.